Meso American-Caribbean Sea Hydrographic Commission (MACHC)
Chair: United Kingdom - Rear Admiral Angus Essenhigh OBE
Vice Chair: Suriname - Bernice Mahabier
The Meso American-Caribbean Sea Hydrographic Commission (MACHC) supports the activities of the International Hydrographic Organization (IHO) on a regional basis.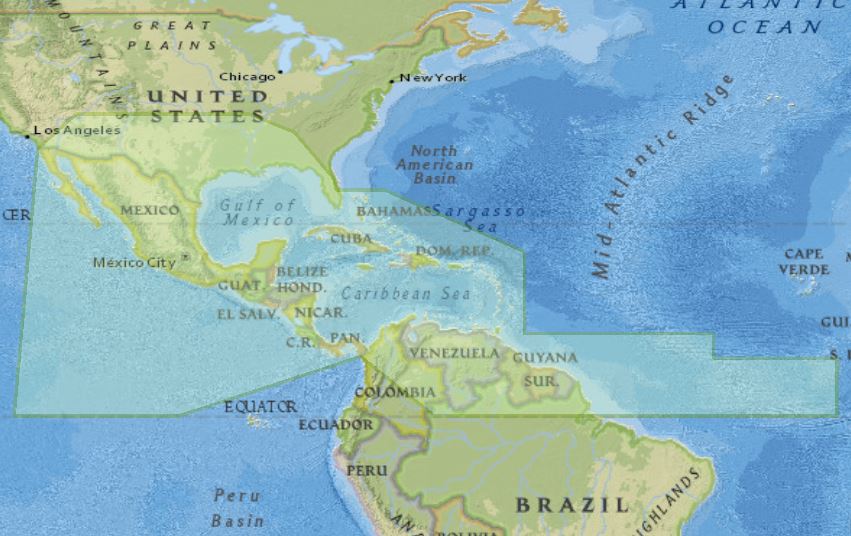 The greater Meso American region
This website is dedicated exclusively to the two working groups, one committee, and main initiatives of the MACHC. The working groups and committee carry out the essential day-to-day functions of the commission in an advisory, scientific, and technical capacity. They work to assist with the hydrographic services of Member States. All documentation and reference materials related to the working groups and committee are available on this site.
General MACHC information, including circular letters and conference information are available on the IHO website under Regional Hydrographic Commissions. The commission meets biannually in a country of the region. Member States are represented by the heads of the hydrographic authorities or their nominees or, where such services do not exist, by heads of national authorities responsible for hydrography and navigation. Non-member countries of the region are generally invited to attend the commission conferences as observers.