MesoAmerican-Caribbean Sea Hydrographic Commission (MACHC) of the
International Hydrographic Organization (IHO)
Chair: Suriname - Mr. Michael Amafo
Vice Chair: The Netherlands - Captain Peter Kortenoeven
IHB representatives: Captain Robert Ward, Captain Alberto Costa Neves
The MesoAmerican-Caribbean Sea Hydrographic Commission (MACHC) supports the activities of the International Hydrographic Organization (IHO) on a regional basis. The basic activities of the MACHC are conducted by the three primary MACHC Committees.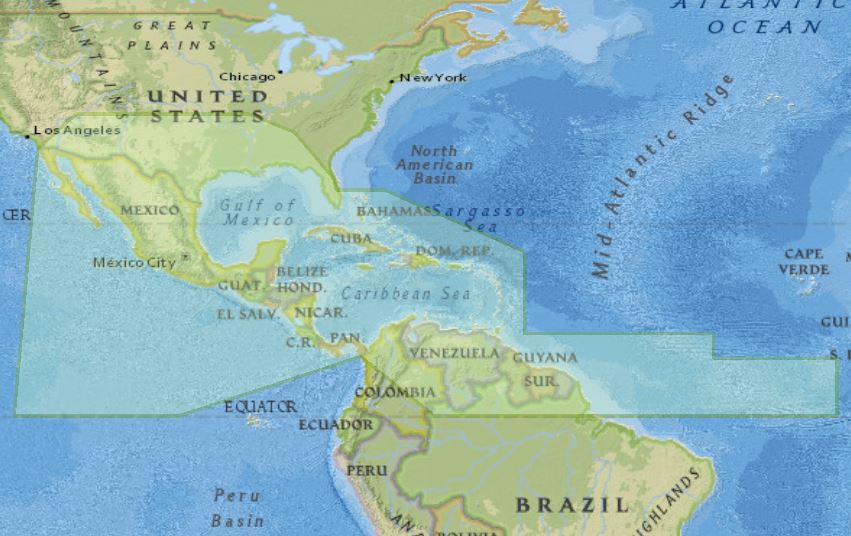 This website is dedicated exclusively to the working Committees of the MesoAmerican and Caribbean Sea Hydrographic Commission. They include:
MACHC Integrated Chart Committee (MICC)

Marine Economic Infrastructure Programme (MEIP)
Capacity Building Committee (CBC)
These Committees carry out the essential day-to-day works of the Commission in an advisory, scientific, and technical capacity and endeavor to assist the Hydrographic Services, or institutions responsible for hydrographic and navigation, of the Member countries. All Committee documentation and reference materials are available on this site.
General MACHC information, including MACHC Circular Letters and Conference Information, is available on the IHO website under "Regional Hydrographic Commissions"
Primary aims of the MesoAmerican-Caribbean Sea Hydrographic Commission are:
To promote technical co-operation and training in the domain of hydrographic surveying, marine cartography and nautical information.
To examine in its area of interest, matters with which the IHO is concerned.
To stimulate all countries of the Region to expand their hydrographic activities and to encourage them to seek advice and technical assistance from the IHO and other organizations in order to strengthen their hydrographic capabilities.
To facilitate the exchange of information related to surveys, research and/or scientific and technical development to assist in planning and organizing the hydrographic activities in the widest sense of the aims, but without interference in national responsibilities.
To implement the INT Chart Scheme for the Region and to monitor its suitability.
To carry out studies and projects through working groups of the Commission or as a working group of the IHO when deemed necessary.
The Commission generally meets in ordinary Conference in a country of the Region on a biannual basis. The Members are represented at the Conferences by the heads of the Hydrographic Authorities or their nominees or, where such services do not exist, by heads of national authorities responsible for hydrography and navigation.
Non Member Countries of the Region and the Coordinators of adjacent INT-Chart Regions are generally invited to send representatives to attend the Commission Conferences as Observers.